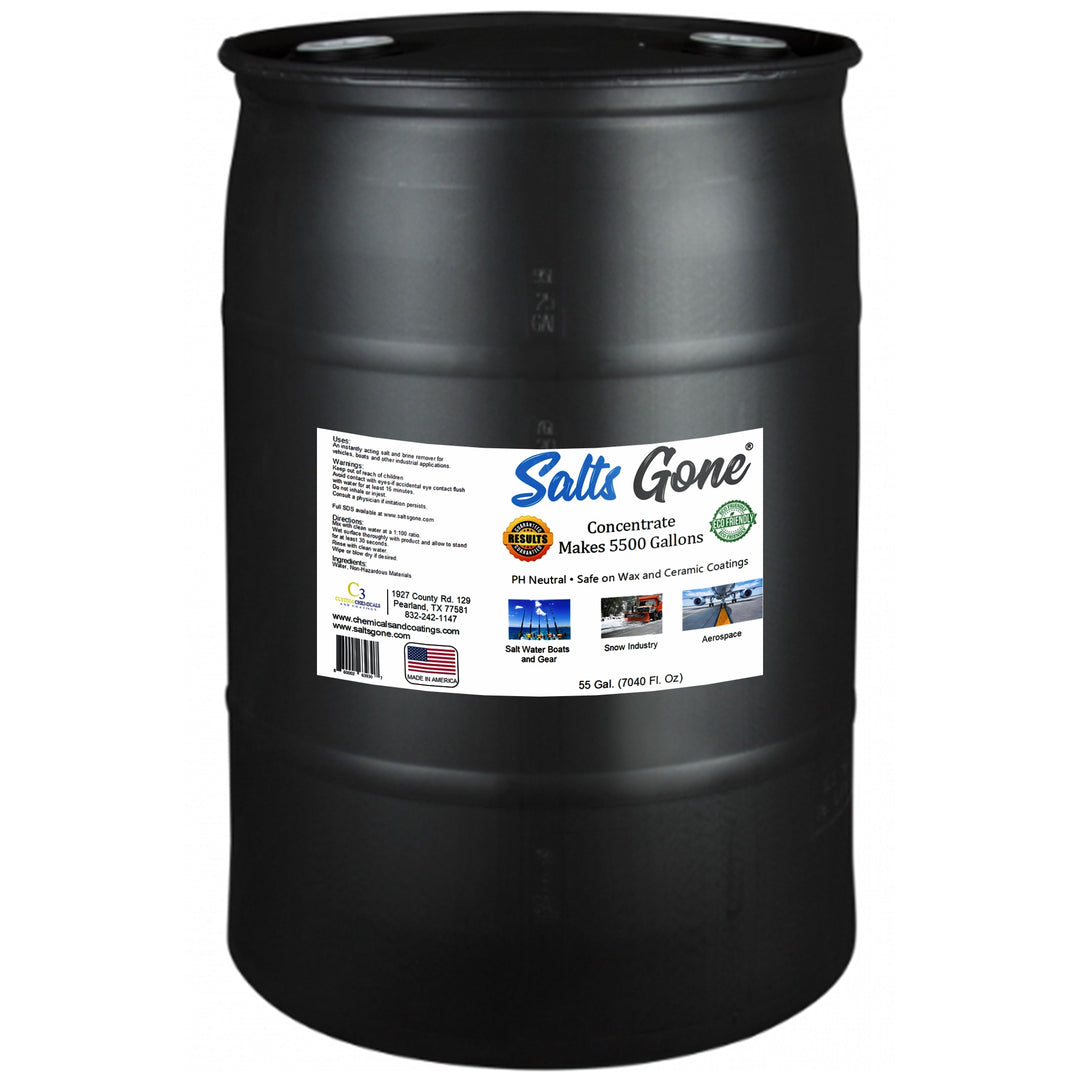 Salts Gone™ 55 Gallon Drum
Regular price
$3,575.00
Sale price
$2,475.00
/
Free Continental USA shipping
🌟 Salts Gone™ 55-Gallon Drum: The Gold Standard in Commercial-Grade Rust Protection
Unlock unparalleled, long-lasting salt removal for your fleet and assets with the Salts Gone™ 55-Gallon Drum. Initially conceived to meet the high demands of fleet management, car wash facilities, and commercial operations, this sizable solution is your secret weapon against the damaging effects of salt and corrosion. Take your salt management strategy to the next level and ensure enduring protection for your vehicles, equipment, and more.
🛠 Key Features:
- Enterprise-Level Efficacy: Custom-engineered for fleet companies, car washes, and other commercial entities, this 55-Gallon Drum is tailored to meet the unique needs of large-scale operations. Gain the upper hand with a solution designed for your extensive requirements.
- Boundless Applications: This drum can yield up to 5,500 gallons of potent Salts Gone™ solution, translating to over 1,375 separate applications. Equip your operation with the power to consistently shield your entire fleet, machinery, and various other assets.
- Fast-Acting Formula: Immerse your assets in the high-performance Salts Gone™ formula for rapid salt and brine elimination. Preserve the integrity of your vehicles and equipment by guarding them against the corrosive forces that threaten long-term durability.
🌟 Why Choose the Salts Gone™ 55-Gallon Drum?
- Cost-Efficient: The expansive capacity provides a cost-effective solution for commercial needs, offering excellent value per gallon.
- Ease of Use: Designed for seamless integration into your existing maintenance processes, facilitating effortless large-scale applications.
- Quality Assurance: Trust in the proven effectiveness of the Salts Gone™ brand, a trusted name in comprehensive salt management solutions.

- Made with Pride in the USA: Manufactured domestically to the highest quality standards, ensuring a product you can trust.
Step up to commercial-grade salt removal with the Salts Gone™ 55-Gallon Drum. Invest in the longevity and performance of your fleet and assets by making this powerful solution a cornerstone of your maintenance regimen.
Products are in stock unless otherwise noted.
Orders placed before 2pm central time will ship out the same day (subject to carrier picking up at scheduled time).
Free shipping will use USPS, FedEx or UPS. If you have a particular shipping preference you will be able to choose the carrier of your choosing at checkout and pay the associated charges.
Please provide the correct email address at the time of order as tracking information will be sent there directly via email address info@saltsgone.com