Is Salts Gone™ Safe for Fabrics?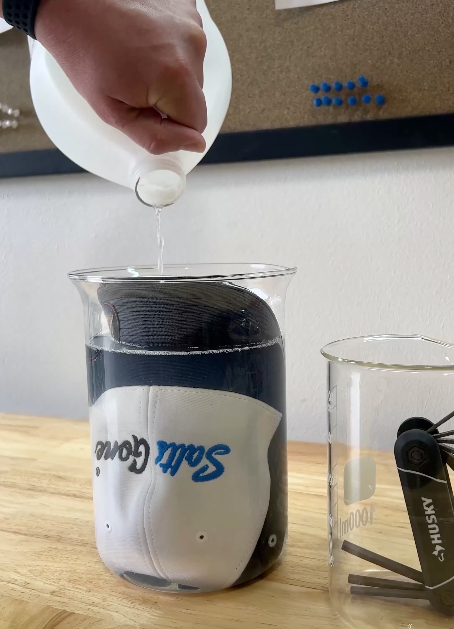 Unveil the Magic: Salts Gone™ Transforms Your Fabrics and Eliminates Corrosion! 🎬
Welcome to another exciting episode from the Salts Gone™ lab! Today, we're not just showcasing the unparalleled corrosion-busting prowess of Salts Gone™; we're also highlighting its gentle effectiveness on delicate fabrics. Wondering how? Let's dive right in.
The Captivating Experiment: What We Did 🧪
We embarked on a unique journey by placing a brand-new hat next to a rusty allen tool, and submerging both in a bath of Salts Gone™ concentrate. The idea was to simultaneously demonstrate how our Salts Gone™ concentrate could be both potent against rust and gentle on fabrics.
Astonishing Results You Have to See to Believe! 🌟
🧢 Fabric-Friendly Perfection:
Salts Gone™ has a pH-neutral formula that respects your fabrics. You'll be thrilled to know that the hat emerged without a single sign of color fade or wear. It looked brand-new, solidifying Salts Gone™ as the perfect companion for your fabrics.
🔧 Rust, Be Gone!
Our rusty allen tool underwent a miraculous transformation, too! The rust vanished, showcasing the incredible potency of Salts Gone™ in tackling the toughest rust issues.
Pro-Tip for Boating Enthusiasts 🛥️
While using Salts Gone™ for your regular boat maintenance, keep in mind that the ideal dilution ratio is 1:100. This concentration is perfect for a flawless finish on seats, bimini tops, cushion flooring, and more!
A Game-Changer, Not Just a Cleaner 🌟
Salts Gone™ redefines cleanliness and fabric care. But don't just take our word for it – watch the mesmerizing transformation for yourself by checking out our video.
We'd love to hear about your Salts Gone™ victories! Share your stories and become a part of our growing community.
#SaltsGone #CorrosionFree #FabricFriendly #BoatLife #CleanBoating #SpotlessFinish
---