Cleaning for Salt and Grime On-the-Go!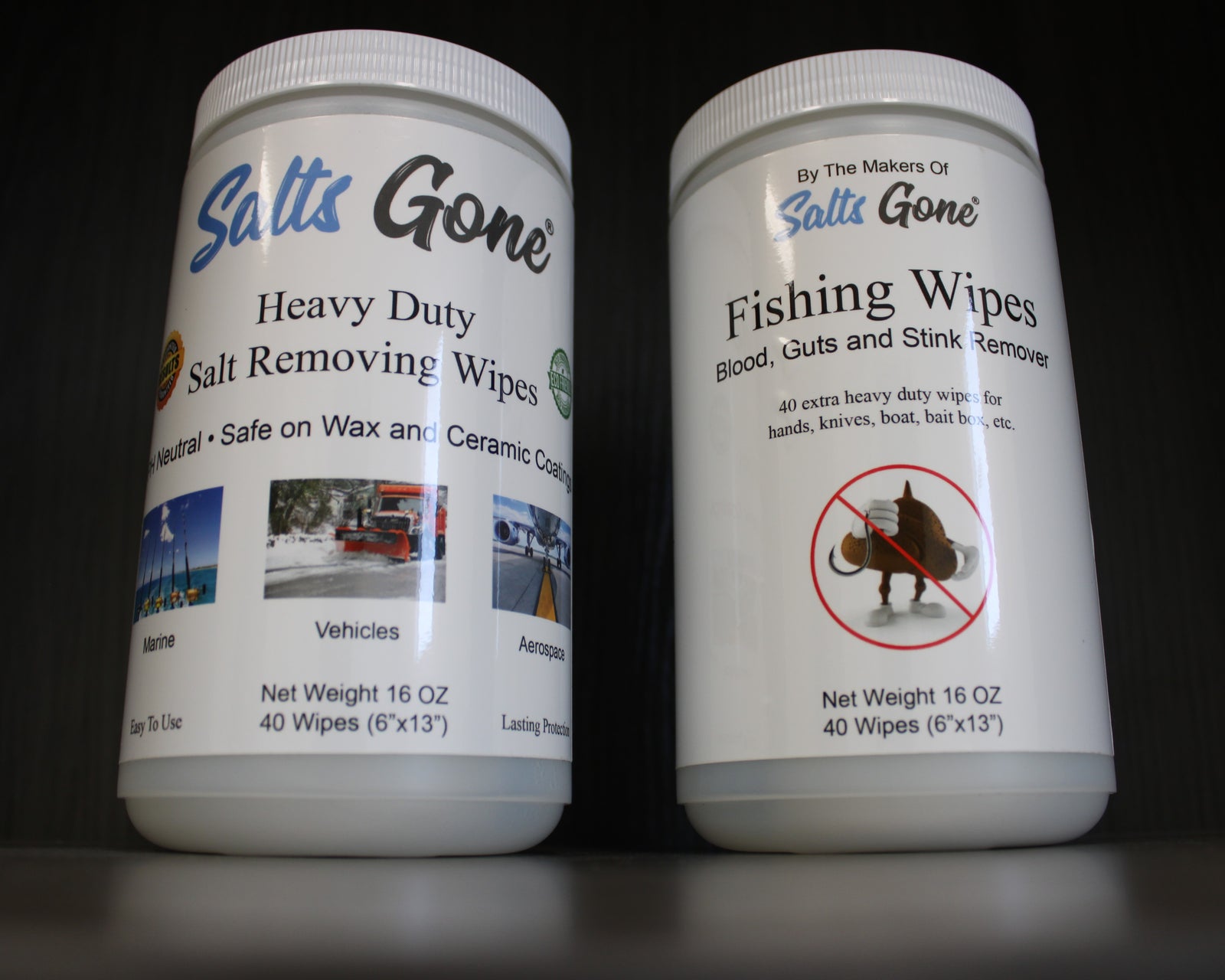 In the fast-paced world of cleanliness on-the-go, Salts Gone™ Wipes emerge as the epitome of precision and convenience. Meticulously designed, these wipes go beyond the ordinary, offering a dual arsenal for tackling salt and grime or the toughest fishing messes. Discover the durability, versatility, and super-convenience packed into every ready-to-use Salts Gone™ wipe.
Precision Cleaning, Anytime, Anywhere: Unleashing the Power of Salts Gone™ Wipes
1. Salt Removing Wipes:
Soaked in Salts Gone™ concentrate, these wipes are engineered to target and eliminate salt and grime with unparalleled accuracy, ensuring your gear and equipment stay pristine. Ideal for outdoor enthusiasts who want to keep their equipment in top-notch condition.
2. Fishing Wipes:
Tackle the toughest fishing messes with Salts Gone™ Fishing Wipes. From blood and guts to stink, these wipes are your on-the-go solution for staying fresh after a successful day on the water. Perfect for anglers who want a quick and efficient way to clean up post-fishing.
3. Durable and Versatile:
Salts Gone™ Wipes are not just convenient; they're durable and versatile. Whether you're cleaning fishing gear, outdoor equipment, or just tidying up, these wipes can handle it all.
4. Ready-to-Use Convenience:
No mixing, no diluting—just grab the Salts Gone™ wipe that suits your cleaning needs, and you're ready to go. The ready-to-use convenience ensures that precision cleaning is always within reach, no matter where your adventures take you.
How to Make the Most of Salts Gone™ Wipes: A Quick Guide
Select Your Wipe:

Choose between Salts Gone™ Salt Removing Wipes or Fishing Wipes based on your specific cleaning requirements.

Precision Application:

Wipe down surfaces or equipment with the chosen Salts Gone™ wipe, allowing the concentrated formula to work its magic on salt, grime, blood, or stink.

Durable Performance:

Experience the durability of Salts Gone™ Wipes as they withstand the toughest cleaning tasks, leaving surfaces and gear refreshed and ready for action.
Salts Gone™ Wipes redefine on-the-go cleaning, offering precision solutions for salt, grime, and fishing messes. Embrace the convenience of ready-to-use wipes that are as versatile as they are durable. Elevate your cleaning game with Salts Gone™ Wipes—because precision cleaning should be as mobile as your adventures.
---