Can You Use Salts Gone™ on Beach-Driven Vehicles? Your Ultimate Guide to Efficient Cleanup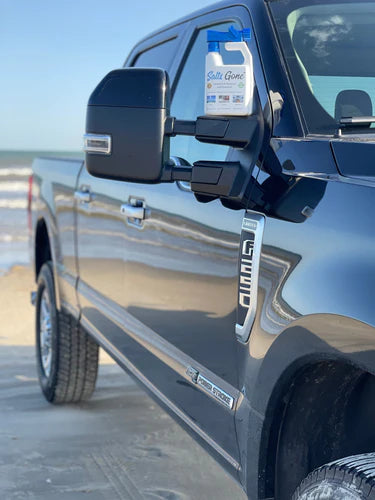 We hear from customers who frequent the beach, asking, "Can we use Salts Gone™ on our vehicles driven on or at the beach?" The short answer is yes! While you could stop reading here, we have gathered some valuable tips that will streamline your rust and salt cleanup process.
High-Volume, Low-Pressure Rinse: The Best Practice
It's tempting to reach for your pressure washer for a quick clean, but combating corrosion and salt buildup demands a different strategy. To effectively tackle these issues, we recommend a high-volume, low-pressure rinse. This approach aims to flood the surface rather than driving particles into nooks and crannies. This is particularly important for sandy environments, where sand can trap moisture and exacerbate corrosion.
To Rinse or Not to Rinse After Applying Salts Gone™
This is often a matter of personal choice. Leaving the solution on won't harm your paint or finishes, but it may result in water spots, particularly if the area dries quickly in the sun. Generally, for the exterior of vehicles driven on or at the beach, we advise applying Salts Gone™ and then rinsing it off. For the undercarriage, a rinse is completely optional—you can simply spray and leave it there.
Where Can't You Spray Salts Gone™?
Great news—you really can't mess this up. Salts Gone™ is safe for all parts of your beach-driven vehicle. Whether it's the exterior, the undercarriage, or even the engine compartment, go ahead and spray to your heart's content.
Watch Our Quick Video Tutorial
Need a visual guide? Don't miss our straightforward video tutorial for a step-by-step walkthrough on how to effectively use Salts Gone™, especially for those hard-to-reach undercarriage areas.
---
Conclusion
So there you have it—a complete guide on how to use Salts Gone™ for rust and salt removal on vehicles driven on or at the beach. Stick to these guidelines, and you'll not only preserve your vehicle but also extend its useful life. Here's to rust-free and salt-free beachside adventures!
Related Keywords for SEO
Salts Gone, Beach-Driven Vehicles, Rust Removal, Salt Cleanup, High-Volume Rinse, Low-Pressure Rinse, Water Spot Prevention
---