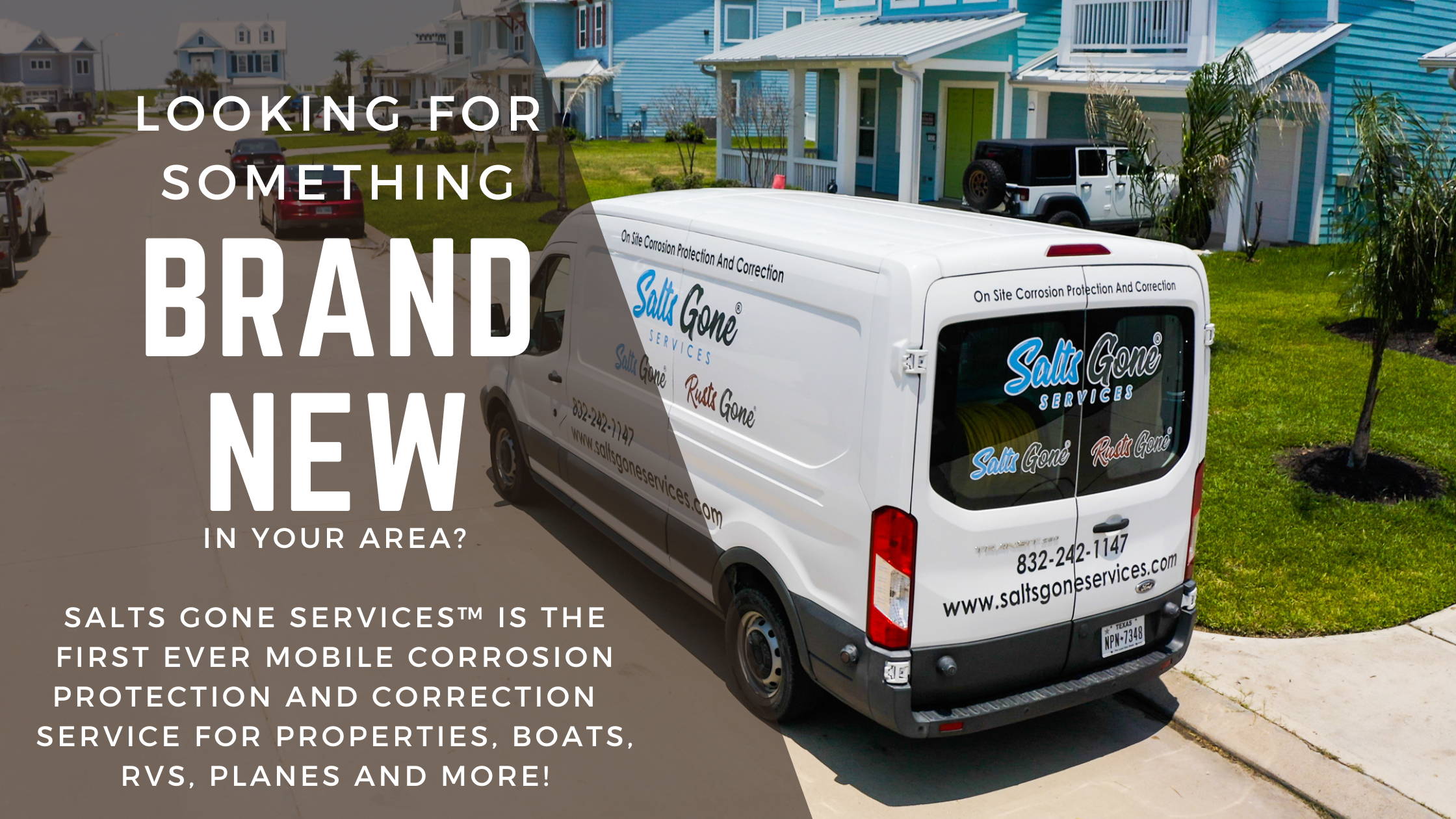 ---
What Is Salts Gone Services™
Salts Gone Services™ takes our proven products directly to consumers in order to provide them with turn key solutions to their corrosion issues.
This can include coastal homes, boats at ramps as they get pulled out of the water, reasutrants with outdoor furniture, AC units, commercial facilities, RV parks etc. The list goes on and on in every coastal community!
The average consumer knows salt causes issues for them, they just don't have anybody to provide them a solution!
---
Turn Key Business Package
  Territory
Designated Exclusive Territory

Right of first refusal on adjoining territories

Equipment

Salts Gone™ Services Skid to be mounted in truck, van or on trailer

300' pressure hose

Multiple nozzles

Wireless Remote Control to turn Salts Gone™ on and off

Electric hose reel

Honda Engine

Comet pump

Coated in blue bedliner

Marketing

License to use Salts Gone™ name and logo

Website on SaltsGoneServices.com

Traditional marketing material

Online Referrals

 

Costs:

$15,000 Includes 1 territory and 1 machine

$3,000 per quarter in consumable purchases required to maintain territory (applicable after 6 month ramp up period).

Wholesale pricing on consumables

Salts Gone™ $37 per gallon in 5, 55, or 275 gallon totes (FOB 77581)

Rusts Gone $110 per gallon in 1, 5, or 55 gallon packaging
---
Please note these are ballpark only. Each area will vary. We STRONGLY encourage you to discuss these prices with potential customers in your area so you have a full expectation of what your specific area will bear.
Boats at boat ramp
-$1 per linear foot

-Motor flush $6 per

-Trailer and back of truck $10 30' and below, $15 31' and longer

Example: 30' center console with twin 350's

Boat $30

Motors $12

Trailer/back of truck $10

Total $52 and should not exceed 10 min
Residential Homes
Home Service includes everything on the property from the gutters down. This is not only exterior of the home but any vehicles, golf carts, AC units, boats, lawn furniture etc. Absolutely everything outside of the home that can get wet. It is not suggested to try to calculate and add each item up. Square footage of home can be obtained from Zillow or a similar website.
One time service at $.25 per square foot of home

Monthly service at $.18 per square foot of home

Example 3,000 square foot home on monthly

3,000 x $.18 = $540

Service time approximately 1 hour and 1 gallon of Salts Gone™

Motor Homes/RV

$2 per linear foot for beach side service

$6 per linear foot for road salt/brine removal from trip North to South.

Example 42' Motor Home

42 x $2 = $84 regular service

42 x $6=$252 road salt
---
Video Walk Through of Salts Gone™ On A Coastal Home
---
Video Walk Through Of Using The Supplied Equipment
---
Video Walk Through Of Salts Gone™ On An RV
---
Hit Reply To This Email And We Will Schedule A Time To Answer All Your Questions!